Fragmentation Grenade



Available:

Levels 1+.

Damage:

1~5 . Injure body parts.

Ability:

Has a good chance of killshot.

Area of Effect:

? 3x3.

Used:

Occasionally (once).

Quote:

"Ow! Ah! Oww!... But! Aaaah!"

Boosted: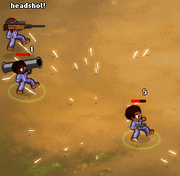 Fragmentation Grenade is an unlockable low-tier

Equipment which can be used in one of three equipment slots available per

Trooper. It explodes into shrapnel (which act like bullets), causing damage measuring 1~5

Life Points for each fragment.
Analysis
This is a very useful grenade due to its fragmentation nature, as shrapnel fragments are treated as bullets. Thus, shrapnel can result in
killshots and propagate the effects of special ammunition over the area of effect. As such:
Unconfirmed

Ammunition in the next list is of no benefit to the fragmentation grenade.
Note: Troopers with

Interception cannot throw back Fragmentation Grenades.
Gallery
Community content is available under
CC-BY-SA
unless otherwise noted.