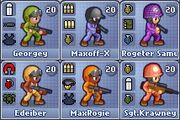 The Factions are the (as of now) six original armies in MiniTroopers:
The Dalai Farmers (green)
The Order of the Sainted Trousers (light blue)
The Wretched Individuals (purple)
The Exploding Carrots (light red)
The Party-loving Hermits (orange)
The OK Lumberjacks (sandy yellow)
These armies have, as a rule, six troopers, each in a different level (20, 18, 16, 14, 12 and 10), totaling a power of 114, and each of the armies wears a different uniform coulour (hence the six uniform colours seen in-game).
The faction to which an army belongs has not yet shown any influence in gameplay, and it is still uncertain if there are (or will be) any more factions, other than the ones presented here. A player can attack enemy armies that belong to the same faction they do, as well as a player's recruit will not necessarily be part of the same faction they are.
Armies which were not created via a recruitment link (that is, created directly through the MiniTroopers website) are counted as recruits of any given faction. The MiniTroopers website is actually a recruitment page to a random faction.
External links
Community content is available under
CC-BY-SA
unless otherwise noted.