Black Hole Grenade



Available:

Levels? 13+

Damage:

Lethal.

Descr.:

Wipes out all enemies on a zone measuring 2x2.

Area of Effect:

2x2.

Used:

Occasionally (once).

Quote:

"Haha! Behold, our latest invention! Now, can we have a volunteer for the first test?... No? Nobody?"

Boosted:
Countered by:

The Black Hole Grenade is a piece of high-tier

Equipment, both rare and mysterious. Like all equipment it can only be used in one of the three equipment slots available per

Trooper. Upon impact it wipes out all enemies in an

Area of Effect measuring 2x2.
Rarity
Very few armies have the black hole grenade. Here is a list of them.
http://team-jay.minitroopers.com/hq
http://cosa32.minitroopers.com/hq
http://dfff4.minitroopers.com/hq
http://project-3.4.1.minitroopers.com/
http://goodraforever.minitroopers.com/hq
http://magaga.minitroopers.com/hq
http://knife-x-bullet.minitroopers.com/hq
This skill has been seen on non-player owned troops a number of times, the lowest level of which is 13, however the minimum level required is still not determined as we have very few examples.
Gallery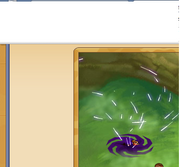 Media
Community content is available under
CC-BY-SA
unless otherwise noted.